14 Oct

Listening party and panel discussion for There It Is—Take It! in Independence, CA

There It Is—Take It! will be publicly launched on Sunday, October 14th, 2012 at 7 p.m. at a free listening party and panel discussion hosted by The Friends of the Eastern California Museum in Independence, California.

A panel discussion concerning past, present and future issues related to the Los Angeles Aqueduct system and LADWP's presence within the Owens Valley. The panel will include several of the individuals interviewed for the audio tour project:
Mark Bagley, executive director, Owens Valley Committee (OVC)
Mike Prather, environmental activist (OVC, Eastern Sierra Audubon Society, Sierra Club Toiyabe Chapter)
Nancy Masters, Inyo County librarian and community activist
Harry Williams, environmental activist (Bishop Paiute Tribal Member)
There It Is—Take It! Audio Tour Listening Party & Panel Discussion
Sunday, October 14th, 2012, 7 to 9 pm
Free to the public.
Location:
Owens Valley School, Gym
202 South Clay Street
Independence, CA 93526
Directions:
Coming from the south (Los Angeles), on U.S. 395/Edwards Street, turn right on E. Kearsarge Street, runs into South Clay Street and school parking.  Coming from the north (Bishop), on U. S. 395/Edwards Street, turn left on E. Kearsarge Street, runs into South Clay Street. The gymnasium is located on the east side of the campus.  Parking is in front of the school, on South Clay Street.
About the project:
There It Is—Take It! is a self-guided car audio tour through Owens Valley, California along U.S. Route 395 examining the controversial social, political and environmental history of the Los Angeles Aqueduct. The tour illuminates various impacts this divisive water conveyance infrastructure has created within the Owens Valley over the last one hundred years of aqueduct's existence. Stories of the aqueduct are told from multiple perspectives and viewpoints through the voices of historians, biologists, activists, native speakers, environmentalists, litigators, LADWP employees and residents from both Los Angeles and the Owens Valley. Designed as a free, downloadable 90-minute audio program, There It Is—Take It! seeks to shed light on the mutual past, present, and possible future of Los Angeles and Owens Valley—centered around its complicated and intertwined water history.
Contact: Kim Stringfellow
E: [email protected]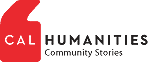 This project was made possible with support from Cal Humanities, an independent non-profit state partner of the National Endowment for the Humanities. For more information, visit www.calhum.org. Any views, findings, conclusions, or recommendations expressed in this program do not necessarily represent those of Cal Humanities or the National Endowment for the Humanities.